Todays topic is tattoos. first off, I consider tattoos an art form, and people who go around saying that all tattoos are stupid bother the hell out of me. However I do believe there is a limit, and that limit has been reached. Most of you have probably heard that some people get their pets tattooed, but im betting very few of you have actually seen it. Im not talking about registration tattoos for show animals, but pictures and designs intended to be art.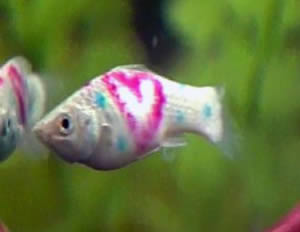 Tattooed fish at a petstore in Williamsville, NY. Exactly how
does
one tattoo a fish? Very carefully im guessing. As for
why
anyone would tattoo a fish, I have no idea.
Sedated pig being tattooed by professionals in Beijing.
Its bad enough that these people tattooed their dog, but come on, could they have picked anything more degrading???
Whoa.... The scariest thing about this picture is that I suddenly want a hairless cat...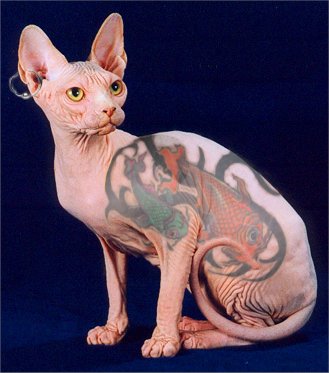 And this ones makes me hope i never encounter one... Im torn!
I cant tell which looks more alive, the beard or the dog...
This one is hard to see, but just as crazy as the rest.